PB Ceilings & Partitions Ltd

Areas covered


Based in Chelmsford, Essex, we cover all of London and the South East.

For all your ceiling, partitioning and sound proofing needs in London and the South East contact us on 07941 110480 or email us!

PB Ceilings and Partitions Ltd

Contact us to arrange your free estimate today!
Email or Phone to discuss what we can do for you!
Acoustic Walls - Sound Proofing
Noise! No one can concentrate in a noisy environment where voices or machinery noises filter through from adjacent rooms.

We install acoustic insulation panels for walls, floors, and ceilings solving your noise problems.

Acoustic walls are becoming popular in schools and colleges, enabling pupils to enjoy noisy lessons in one room, whilst allowing private study in others.

Any number of commercial, public or academic buildings will be able to benefit from this cost effective solution.
Acoustic Panels Case Study


A newly built Community Hall was unable to attract any rentals due to the noise levels in the room. PB Ceilings and Partitions Ltd arranged for an acoustician to visit the site to measure the reverberation time in the room. The client was then advised as to the best layout, and installed the recommended amount of acoustic panels to the walls.



Acoustic Wall panels come in various sizes and colours.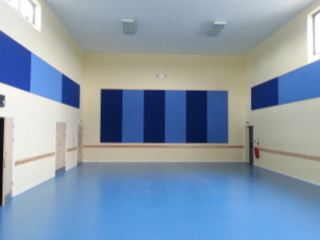 Acoustic Wall Panel
Acoustic Wall panels can solve your overflow noise problems in school classrooms, community halls and have many commerical applications.